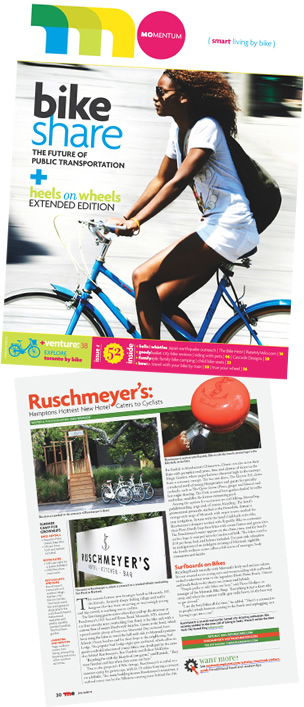 "This season's hottest new boutique hotel in Montauk, NY, the historic, formerly fleepy fishing village and surfer hangout that has been attracting and increasingly young and hip crowd, is reaching out to cyclists.
The first thing guests notice when they pull up the driveway at Ruschmeyer's, situated on three woodsy acres overlooking Fort Pond, is the bike rack with a custom fleet of unisex Dutch-style bicycles.
In tune with the hotel's laid-back retro vibe, Ruschmeyer's designer worked with Republic Bike to customize their Plato Dutch Step-thru bikes with cream frames and green tires. The Ruschmeyer's name appears on the caincases, and the hotel's anchor logo is stamped into the jumbo red bells.
Guests at the hotel, which opened amidst plenty of buzz over Memorial Day weekend, have been using the bikes to travel the half-mile ride to Montauk's pristine Atlantic Ocean beaches."
- Momentum Magazine,
July/August 2011