Switch to 2D
You must have the Flash player installed to use the 3D Bike Shop™. For devices not compatible with Flash, please use our 2D static visualizer.

Flash required for 3D
With the 3D Bike Shop™, you can visualize your designs in a whole new dimension -- click, drag and rotate your design in 3D space. If Flash is available for your device, please download Flash here.

Due to frisky demand, we are building orders in about 7 business days.
Your patience and support is kindly appreciated.
Socrates®' cargo bike – an innovative platform for hauling and branding.
$699
orders today built within
7

days

*
* This is an estimate
in business days.
All bikes are built on a
first-come, first-served basis.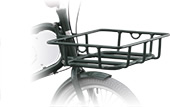 Bring it.
Frame mounted carrier for
stable loads up to 50lbs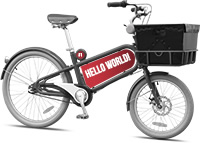 Brand it.
Integrated sign and mounts for
branded messaging.

Recycled Plastic Tote
Made in the USA

Get custom.
Need something custom for
your company? Get in touch.
sizing



Available
sizes

Recommended
height range

STANDARD

5'2" to 6'
specifications
Total assembled weight: 35 lbs

Frame: Custom design in aluminum. Adjustable alloy seat tube clamp. Front pipe carrier mounted to frame for stable load carrying.

Tote: 21" (L) x 16" (W) x 11.5" (H), made by MDI.

Fork: 20" Steel for stable handling.

Gearing (3-speed): Shimano Nexus 3-speed internal hub, 33T chainwheel, 18T freewheel

Grips: Custom stitched comfort grips.

Saddle: Custom two-tone button saddle with Republic logo plate.

Chaincase: Two-tone plastic chain cover.

Wheels: Rear alloy 26 x 1.5". Front alloy 20" x 1.5". Nutted axles to both front and rear.
Tires: Front 26 x 2.25"; Rear 20 x 2.25" custom hue balloon tires.

Rear hub (3-speed): Shimano Nexus 3-speed Coaster brake hub with 18T freewheel.

Handlebars: Alloy, 600mm wide semi-raised.

Pedals: 9/16 Alloy platform with reflectors.

Brakes: Rear coaster brake, front disc brake.

Seat post: Extra wide alloy.

Center mounted double kickstand included.

Front, rear and wheel reflectors included.

Frame mounts: Rear carrier mounts, fender mounts and sign mounts.

1-800-220-3420 Mon-Fri 10a-4p EST
Copyright © 2013 Republic Bike Inc. All Rights Reserved.

Republic, Built by us & you, 3D Bike Shop, Aristotle, Plato,
and Socrates are trademarks of Republic Bike Inc.
Other marks are the properties of their respective owners.